An employee of a nearby office posted a note on her social media account stating that a large number of bodies were being taken from the National Hospital morgue on Amanna Road at night.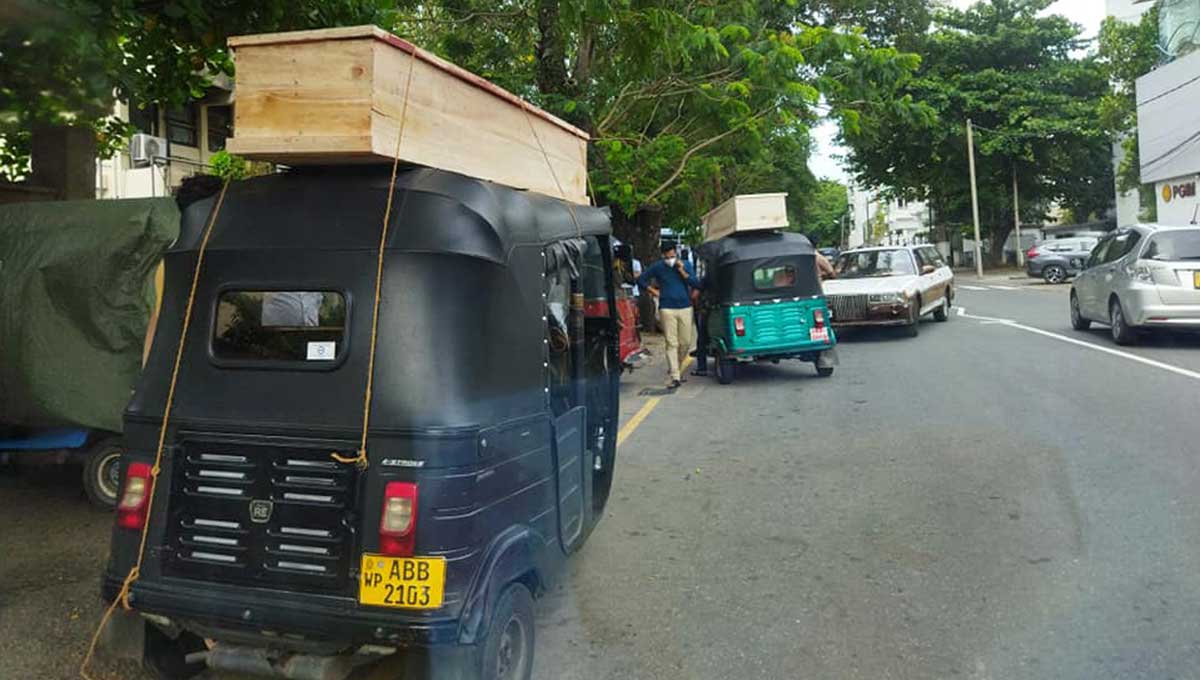 Here is a note written on a Facebook page about how the gate near the morgue of the National Hospital at Howard Place has become crowded these nights.
This is a photo I took on my way home from the office at around 4pm yesterday. Here you see a photo in front of the mortuary of the Colombo National Hospital .. The coffins that were tied up on these three-wheelers were very cheap.
These coffins are not provided by the government. When a member of your family dies due to corona, if the family does not have the resources to buy a coffin worth Rs. 20000- 30000 they will bring coffins like this.
My office is near here. I look at the National Hospital morgue from the balcony of my office at a time. That mortuary is currently the busiest place in the hospital.
Poor people come to the morgue every day and cry. Some sit on the ground, hug the trees and cry on the ground. Every day from 6 pm to 6 am, only ambulances are ready to be taken to the Corona crematorium for cremation !!
These corona bodies are no longer taken to the crematorium during the day. They do so throughout the night. So from 6pm to 6am, the mortuary on Ward Place is just a solitary funeral procession !!
Today I found out that there are no coffins in the flower shops that are in demand now .. This means that in the future you will not have the opportunity to make the final journey in even a small coffin like this.
Maybe you'll have to go on that journey wrapped in a polythene bag. We've to be burned together in a mass grave. Even if we had the assets to buy a box worth millions at that time, we would not be able to give even that minimum respect to our closest friend !!
156 deaths yesterday !! Maybe take this breath today and I'll join him in the death count tomorrow !! Even then, this gloomy road will create the tragic gloomy environment that our funeral procession needs !! By the end of this fight, most of the people around us will be gone !! – Chanya Herath FB