BTS members are the sweethearts of every army. So they could have feelings for them as they are the sweetest and handsome people on the planet. Because of that fact, many armies have dreamed of being their lover. But did anyone get a chance of being their lover?
The answer is a big No-No. But there are few rumours that they are dating. The first rumour is BTS V is dating a long time fangirl named HI. This scandal occurs after she pcare ford about their relationship on her Twitter account. Those rumours said that they had exchanged gifts too. But the Bighit denayed the rumours and fans are still confused about what happened.
V has also strictly denied the fact in an "Ellen Show" and Armies found his reaction cute.
They still wishes him all the happiness as they are free to love anyone they feel to love
Then comes to our cute leader RM Namjoon. Armies notice him wearing the same ring a few times on his ring finger.
One time his unsuccessful attempt to change the ring from ring finger to index finger.
Also once he showed a child shoes he brought for no reason. Once he told that he wanted to be a father.
He said he got it because he found that shoes are cute.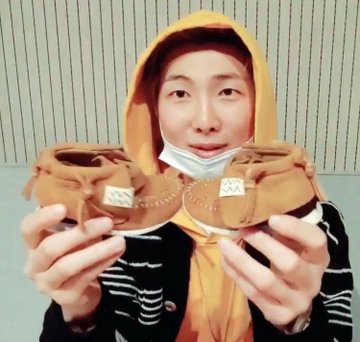 Not only that he once said in V live that " My child mastered Hangeul at age four"
What do you think is he married. Through armies are still wishes best of luck if he's in a relationship. They said they wish him all the happiness whether it is a love promise ring or engagement ring he should receive all the love around the world
.