India has reported new corona virus infections: a further 349,691 cases in the during last 24 hours to Sunday morning with more 2767 deaths.
India capital Delhi had become one of the worst-hit areas. According to the foreign media reports all the hospitals are piled with lines of patients and many of them are refusing new patients due to lack of bed spaces and oxygen. However it is reported that some people are walking miles to the nearest state Haryana for medical help. But according to medical authorities this is worsen the case due to ambulance services are lack of ability to supply the service.
With this situation mamy people had to accept their fate and die without any treatment. People are pleading for their lives and helth staff is exhausted in mentally and physically with the current situation.
Dr A Fathahudeen, who is part of Kerala state's Covid task force said to BBC explaning the situation;
"You need high-pressure liquid oxygen for the smooth functioning of ventilators and bi-pap machines. When the pressure drops, the machines fail to deliver adequate oxygen into the lungs, and the consequences can be fatal,"
"oxygen is one of the major treatments to stabilise the patient, allowing doctors time to assess them and plan a future course of treatment."
"The Indian army is one of the finest in the world to build makeshift hospitals and ICU beds within a short span of time. They should be roped in," he said.
Here are some videos about the Situation in India
"delhi is wearythe strain of covid's second wavedebilitatingthe struggle to get care competing withthe struggle to breathea city of 20 million and almost nohospital beds availableplease won't someone do something tohelp me this man saysafter searching for a bed for his motherfor daysinside it's frantic doctors workovertime to save patientsthat keep coming this woman was admittedfor a short time enough to be stabilizedonly to be sent away again there's justno roomwith india's cases exploding fueled by anew variantday after day new infections are topping300 thousandand every hospital in delhi looks likethisdesperate for oxygen to save lives so weare strugglingwe are struggling dr sumith ray ispleading formore supply running out of oxygen thewhole country is running out of oxygenokaybreaking the news to his staff thatthere's only 30 minutes of oxygen lefthe spoke to us at the end of his day imean i cannot tell you how scary that iswe have385 patients out of which nearly 350 areon auctionhe got a last minute influx the push toshuffle oxygen around the country to hotspotsis slow and cumbersome arriving too latefor too many india's deaths now topping2000 a day the prime minister convened anemergency meetingto talk oxygen supply but many point thefinger at his government for this crisisfor doing nothing to discourage largegatherings knowing there was likely tobe a new wave of the viruswe underestimated the virus we reallydidif the numbers don't come out no healthcare system can handle this there's nohealth care systemexperts say the peak of new infectionsis nowhere in sightsalima shivji cbc news."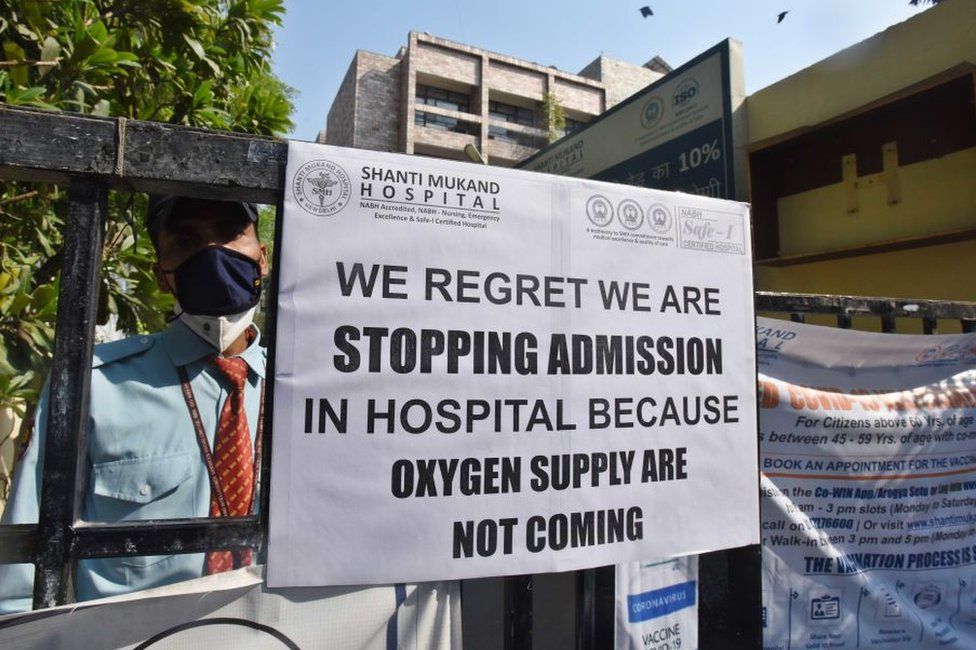 feature image by BBC